As followers of Jesus, we passionately serve and grow
in relationship with God to transform lives in our community.
Welcome to
Yardley United Methodist Church
300 Yardley Langhore Road
Yardley, PA 19067
215-493-3345
​
In Person Worship each Sunday at 8:45 am
​
Zoom Worship each Sunday at 10:00 am
Watch Facebook Live at 10:00

am

here
Email for Zoom log in
​
​
Welcome to Yardley United Methodist Church! We are meeting for worship each Sunday morning at 8:45 am in the building with safety precautions in place. And, then, at 10:00 am on Zoom.
​
Our mission is to Welcome, Worship, Learn, Grow and Serve God and God's people. We invite you to join us on the journey of growing in our faith and learning to live it out every day. There's a place for you here!
​
Email if you would like to be added to our notification list for weekly on line worship.
​
Scroll down for more information.
If I may be of service to you, please email me.
​
God Bless,
Rev. Barbara J. Seekford, Pastor
Ways we can help the community:
​
Trenton Area Soup Kitchen patrons need the items listed below in their efforts to keep themselves healthy and adequately nourished. If you are able, please prepare one (or all 3!) of these items, and place them in the bin at the top of the ramp entrance to YUMC, at any time during the COVID-19 pandemic. They will be transported to TASK by members of YUMC's TASK volunteers.
TAKE-HOME MEALS - Pack an entree of easy-open can of spaghetti or ravioli, tuna or chicken salad with crackers; a juice box or water bottle; canned fruit (no fresh fruit please); a snack bar; plastic utensils and a napkin in a brown paper bag.
HYGIENE KITS - full-size toothpaste, toothbrush, bar of soap, men's deodorant, shampoo, and one disposable razor in a gallon zip-loc bag.
2021 CALENDARS and DATE BOOKS – your "extras" received in the mail at this time of year.
For a listing of additional items needed by TASK patrons, go to www.trentonsoupkitchen.org, then "30 Ways to Help TASK".
As always, online monetary donations are welcomed.
OUESTIONS? Please contact the church office.
THANK YOU
A prayer for anxious times
Dear Lord, help us not to let our fears and anxieties tie us in knots. Let us relax and trust in your loving arms to hold us and support us. Keep us connected to one another in friendship and love, even when we are separated by space. Heal those who are suffering, and protect us from sickness and hopelessness. We lean on you, our Comforter and Friend. Amen.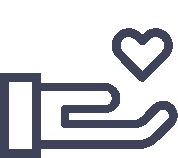 "As each one has received a gift, minister it to one another, as good stewards of the manifold grace of God."